Berlin & Zurich 2008- September 18th-30th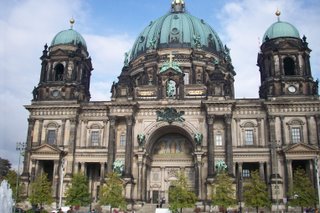 Ozell and I have arrived home from our trip to Berlin and Zurich. Ozell also went to Poland. I had a really good time in Berlin. We arrived on the 18th of September and stayed until the 27th. We stayed in Schoneberg, but I also checked out some of the historical sites (again) and the Kreuzberg, Friedrickshain, Mitte, Charlottenburg, and Prenzlauer Berg neighborhoods. I also went to Potsdam and saw the Hollenzollern's palace and summer home. I biked my way around Berlin and ate quite simply since I was not smoking any weed. This has had the pleasant effect of trimming my midsection up a bit. I have always found that when I take an extended trip, I tend to get back into shape with the exercise and reduced eating.
I met some local Berliners (even though not all were native Germans) and a fellow Brazilian traveler with whom I enjoyed varying degrees of friendship. :) I met a couple of guys who I really like. I enjoyed some of the clubs and nightlife. Marcin (Ozell's Polish lover/friend) was also in Europe. He and I got to spend some time together. Much more so than when we met in Cancun earlier this spring. Ozell has a friend, Gerd, in Berlin, and he is a real nice man. He lent me his bike for the week, invited us to bowl with his friends, drank with us at some of the local bars, and hosted a delicious lunch for us. It was a pleasure to meet him.
I saw some of the major and minor sites of Berlin during the first half of the week. The weather was cloudy and cool with rain on a few days.
I checked out a dance club on Friday (Panorama Bar which is part of the Berghain Club), a queer electro-punk band from Glasgow at a dive club called Festsaal on Saturday, and went on a lunch date on Sunday (maybe it was Saturday too, lol). I met a Brazilian traveler online, and he went out with Marcin and me on Friday and Saturday night. We had a nice time talking and laying in bed listening to bosa nova music. i had a friendly drink and fuck with a nice German. I also met a local who showed me around his neighborhood and went with me on a little pub crawl adventure in Schoneberg. We had the best time at one of the local escorts/prostitute bars called Blue Boy Bar. The place was small and more traditionally German in ambience. Very smokey- In fact, that is something that annoyed me the entire trip. There is so much smoking. Anyways, we were the only 30 year olds there. There were about 10-15 guys from what appeared to be 16-22 years of age. The other half of the clientele were men 45 or older and pretty unattractive. We watched a few business transactions transpire. Many of the hustlers were Romanians, and some were quite hot. However, since the opening offer for a blow job was 50 Euros, and I was pretty confident I was going to get free phallacio from the hot German (you're a stud, H.!) sitting next to me, I didn't continue with the bartering. I was curious what would have been the finally agreed upon price if the negotiations would have continued. lol H. and I checked out a couple more bars and then headed back to my apartment for the evening.
I want to mention something about a popular feature of many bars and clubs in the German/Swiss queer scene. It is called a "darkroom". I may sound like a sexual naïf to some and a sexual deviant to others, but I want to mention why I appreciate the darkrooms. I have known about darkrooms for a while, but I have had limited experiences with them mainly up in San Francisco during the Folsom Street Fair weekend. But even there, the rooms were just a small room in the back and not particularly dark. People seem to mainly use them for smoking since you weren't technically permitted to smoke in the bars. I have seen some sexual acts in the San Fran versions, but it was limited to the leather community and was relatively tame.
The darkrooms in Europe are much darker. Some of them I could barely see a couple feet in front of my face. Others were bright enough to see other guys and your way around. These darkrooms were also not limited to a single room. They included hallways, niches, and private rooms. The hallways or portions of the bar closest to the entry of the darkroom/cruising area typically had some hardcore porn playing on the Lads. My theory it that the porn both sets the atmosphere and is a non-verbal way of communicating the activities one is likely to see if you venture past the threshold. I do not like the really dark darkrooms. I like to be able to see. I am a visual person, and I also do not like anonymous groping. I went into some of the darkrooms in Berlin, but did not enjoy them for this reason. I think I would have enjoyed them if I already had a guy I was into and then took him into a room with me. But since I had to cruise for a guy, the Berlin darkrooms were a little too dark for me. Like I mentioned, it isn't just one genre of bars that have darkrooms in Berlin. I just happened to go into two that were really dark and catered more to type of guy I am not typically into sexually.
However, I did spend my last two nights in a bar in Zurich which had a darkroom area with private rooms (more like closets) and other nooks and crannies. The bar clientele was also more to my liking. The shame is that I went to this bar on a Monday and Tuesday night, but there were ample people there both nights. The bar portions and dance club area of the bar were like any other. But I liked their darkroom/cruising area because you could see plenty well with the low wattage red tinted lights and the guys were much more to my liking than at the other bars in Berlin. This combination finally peaked my interest. I was in a bad mood that night for other reasons, but when I found Ozell upstairs already, he was kind enough to take me into the darkroom area and suck me off. Thus taking my darkroom virginity. :) It was hot. I leave the details to your imagination. While in the room with Ozell, I realized they had paper towels, wastebasket, and what appeared to be a liquid soap dispenser. However, instead of dispensing soap, it dispensed lube! There were also places to grab free condoms. How convenient!
The following night Ozell was not with me, and I had a date with a local Swiss. We met for a drink at a regular bar and realized that we liked each other. However, we also realized that neither one of us could host at either of our places because of the train schedules and the fact that I was leaving for San Diego the next morning. And this brings me to the beauty of the Darkrooms. We agreed to head to the same nearby club I went to the night before so we could have sex in their darkroom. It was logistically the only way it was going to happen. And it was a fucking blast! First, I have to mention that I met a really cool Swiss guy online who took a chance in meeting up with me because it was an effort for him to come to downtown. Plus P. is really frickin' hot, knows how to fuck, and is a genuine and amiable guy. I hope to see him again sometime down the road. The details of our experience in the darkroom that night we'll keep to ourselves and our close friends. It is sufficient to say that we put on quite a show and had horny men lined up outside our room each and every time we came back out. And you could tell each of them were really turned on by what there heard. And no, this is not an exercise in false pride. If you know me, you would know that I am more reserved than many and having primal, animal sex in a public space required me to break out of a box and expand my horizons. I do take pride in that. lol
So the underlying beauty of the "darkrooms" is their utility and convenience. They are areas for play attached right to regular and typical bars and clubs. You can have a drink, flirt with a guy, take him back in the darkroom and do whatever, and then come back out to dance or to sit at the bar. Then you can do it all over again with the same or different guy! There seems to be very little attitude or ill will in the darkrooms too. Some may be more aggressive than others but usually not disrespectful. Lube, condoms, and usually some limited privacy options are provided. Being able to have sex right in the bars/clubs, added a hole new dimension to flirting and playing. First, is there is no worries about to whose place you should go and how to get there and then home. Additionally, being able to go and have fun right away and then return to the same bar to socialize again also frees people up to be more playful than they may typically be. Many people, myself included, will tend to hold out for the best possible option that evening, and often that results in going home empty handed. However, if you know you can go play with one guy and still come back to the bar to work the room again, then it at least makes me more likely to play even if the guy is not my first choice. I do have standards! He would still have to had been my 2nd, 3rd, or 4th choice. Lol
So I am a fan of quasi-darkrooms with attractive clientele. :) When I open up a hostel, it will have a bar and darkroom.
I did have my favorite dancing night in Zurich at a club called Labyrinth in a warehouse district. The music was absolutely perfect. The environment was very industrial. And the men were collectively the hottest group of men, I have seen in a very long time- maybe ever. Zurich may be Swiss, but it has a very diverse international flavor. Take pretty much all major ethnic groups, and you had at least one sculpted guy from each there dancing with their shirts off. I'm sure it would be tiresome after a while. but for the one weekend night I was in town, it was a very good place to go. I should have stayed longer in the morning. I left at 4am, but heard it was strong until 7am.
The highlight of Zurich was seeing some of my family. My sister Megan and her husband Kevin currently live in Zurich. They are closing in on their first year there. My parents were also in Zurich visiting Megan. Ozell also has a friend in Zurich he wanted to see, so Zurich seemed like a good place to go. I got to hear about Megan and Kevin's trip to Italy and my parents' cruise and trip to Rome. My father also celebrated his 65th Birthday while we were there. Megan's and Kevin's apartment is really nice. They were also great hosts and cooked some great meals. The pork and potatoes and the Bengal's tailgating style food were great. I really like the city of Zurich, but it is also really expensive. I could not afford to live there.
Well, there is always much more to say, but I wanted to get the entire Berlin and Zurich trip taken care of in one message. Check out the pics once I post them.
I promise to be more brief with my messages. I suspect I will tend to write short nearly daily entries once the trip starts.