Tuk-Tuks: My favorite mode of transportation in SE Asia...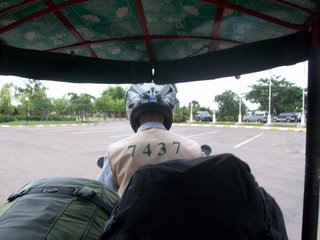 Sabai Di Everyone,
I wanted to mention "Tuk-tuks" here in SE Asia. We did not encounter these scooter driven rickshaws in Singapore, but they are ubiquitous in Cambodia and Laos. They are my favorite mode of transportation in SE Asia. They are nothing more than a 110-125 cc scooter with a rickshaw trailer attached to them. I think Ozell may be writing a post about them also. The very limited power of the scooter motor restricts the top speed to about 30 mph, but the open air (dust and insects aside) and personal driver make the tuk-tuk a very enjoyable ride. Maybe the novelty would wear off if I were riding in them every day, but I do prefer them over walking in the 100 degree heat and humidity. In fact, when we were temple sightseeing in Angkor, the sift breeze of the tuk-tuck ride in between each temple was the type of small pleasure that made you feel glad to be alive. Hahahah
The hostel in which we were staying in Siem Reap had some novelty T-shirts recently made. I wanted to buy a couple for $6, but we were in too much of a rush the morning we were leaving. :( One of the T-shirts I wanted to buy though had the phrase, "Need a break? Have a tuk-tuck!" where the word tuk-tuck was written exactly as "Kit-Kat" is on the famous Kit-Kat bar logo. Obviously, that was the pun they were going for.
I wish I had a much better picture of the tuk-tuk, but I don't currently. I will try to take one here in Laos before me leave. The pic attached to this post is from the inside of a tuk-tuk as we were being driven from the airport to our hostel in Siem Reap, Cambodia. Our driver, Dara, ferried us around Angkor and Siem Reap the next two days. You can have his services for a full day for about $12. :)
Cheers,
Sean